---
Navicular Research Gallium Nitrate Bone & Joint Support
Now celebrating our 18th highly successful year!
---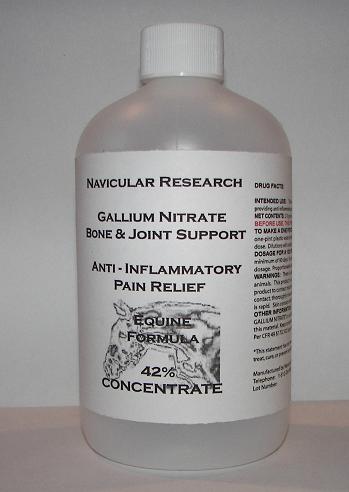 Does your horse need relief from navicular syndrome pain and lameness? Tried everything?

About ready to give up?

The solution to your problem is here!

 

Research trial evidence (shown here) shows that our gallium nitrate product greatly reduces both the incidence of lameness and the severity of lameness of navicular syndrome and navicular disorders, often within 2 weeks.

How does it work? Its main effects are in inhibiting bone resorption through its effects on bone osteoclasts (like Tildren®), and second through its effects in stimulating bone formation through action on osteoblasts (bone-forming cells). Both of these benefits are explained in Sections IV A and B of Mechanisms of Therapeutic Activity for Gallium. Gallium nitrate also has strong anti-inflammatory effects and strong pain-relief benefits among many other benefits shown at http://gallium-nitrate.com.

Regardless, your horse will become sound faster and stay sounder longer with this product than any other product! No equine navicular disorder product has ever before offered all of these benefits. Don't believe us? See these TESTIMONIALS at our original page started in 1996.
The active ingredient in this product is a special type of higher pH, non-citrated gallium nitrate. It is our special equine formula and it is not available elsewhere.
This product is sold as either a 14% or as a 42% CONCENTRATE. See our 14% label here and our 42% label here. 
Before oral use, these products must be diluted to a one percent (1%) solution. WARNING! THIS IS NOT OPTIONAL! Therefore one bottle of the 14% gallium nitrate will last 14 days, and the 42% gallium nitrate will last 42 days, a time period highly likely to produce full recovery.  Use these daily dosage bottle labels found at this page.
These products are not intended for pregnant, lactating, breeding or food production horses. (Mandatory FDA disclaimer)
*This statement has not been evaluated by the Food and Drug Administration. This product is not intended to diagnose, treat, cure, or prevent any disease.  (Mandatory FDA disclaimer)
Pricing
A 14-day supply:  A half liter bottle of Navicular Research Gallium Nitrate Bone & Joint Support (14% gallium nitrate) is $90.00  
A 42-day supply:  A half liter bottle of Navicular Research Gallium Nitrate Bone & Joint Support (42% gallium nitrate) is $250.00
Chemical Gallium Nitrate
Occasionally, people, especially scientists and international importers, want a non-drug product; and for the same price we offer the same product with a "Chemical Label", which is located here for inspection.

Ordering
Thank you for ordering with us!  Your horse will be so pleased to be sound again!
Concerning shipping, we pay shipping fees only for continental U.S.A. destinations. Shipping is by Prioity Mail with tracking.

Orders from Alaska and Hawaii and non-USA destinations must include postage (shipping) fees.  We ship to all non-USA destinations without problems using a "chemical" label.  Due to the high cost of out-of continental U.S.A. shipping, we strongly recommend the 42% solution since the shipping costs for the 42% and the 14% are the same, and considerable prorated costs can be saved by ordering the 42% solution. 

For international shipping, we recomend "Priority Mail Express International®" due to its outstanding tracking capability and speed, but we will ship using less expensive means (First class Package International) if requested, but note that it is without tracking services.  We always ship in a "Package" (not a US Postal Service Flat Rate box).  Bottles weigh 2.0 pounds each and measure 3 x 6 inches, but we ship them (1 or 2 bottles) in a special Styrofoam-filled box measuring 9 X 6 x 4 for product protection.  Please use these criteria to compute the extra fees for shipping outside of the USA when using the U.S. Postal Service page.
Please access the appropriate link below for ordering:

 Purchase by Credit/Debit Card through PayPal 

 Purchase by Check (U.S. Only)

Purchase by E-Mail

 Purchase by Telephone 
---
Questions? Telephone: George Eby at Eby Pharma LLC, Austin,Texas 1-512-263-0805 from 8:00 a.m. to 8:00 p.m. 7 days a week. For international telephone calls, here is a world clock to determine Texas time.
Or, E-mail him: george.eby@george-eby-research.com
---
Technical Support: