Purchase Navicular Research Gallium Nitrate Bone & Joint Using PayPal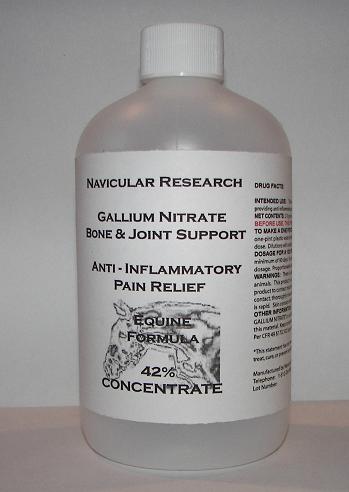 Each bottle of Navicular Research Gallium Nitrate Bone & Joint contains either 70 grams (the 14% concentration) or 210 grams of gallium nitrate (the 42% concentration) in 500 mililiters of deionized water.
The price for the 42% concentration is $250 plus $12 shipping and handling and the price for the 14% concentrate is $90 plus $12 shipping and handling.
ORDERS WILL NOT BE SHIPPED UNLESS SHIPPING IS PAID IN ADVANCE WITH PURCHASE THROUGH PAYPAL BY ADDING S&H TO "ITEM TOTAL".
NOTE: We will combine ship orders up to 5 bottles. Add an additional $12 for each increment of 5 bottles.
SHIPPING OUTSIDE USA: Bottles weigh 2.0 pounds each. Use this weight to compute fees for international shipping. Calculate postage fees using this U.S. Postal Service page (https://postcalc.usps.com/) and 78701 for our zip code.
Shipping (Postage) is due on ALL orders. Contact us giving details of your prospective order (number of bottles, destination country etc.) at: ebypharma@gmail.com and we will calculate your shipping fees. Or, use the postal fee calculator here.
We use secure

as our designated credit card acceptance company. They are the world's most accepted, secure, and trusted method of making credit card purchases of products without divulging credit card information to sellers.
To order, read all steps first:
Then click on the credit card button below, and fill out the PayPal form as applicable to you.
On the left side of the PayPal page, enter the price of the quantity you are purchasing PLUS POSTAGE DUE and enter total amount as "Price Per Item" leaving quantity as one.
Either log in to your PayPal account,
OR click on "Don't have a PayPal account?" and pay with your debit or credit card as a PayPal guest.
Indicate in the form the address you want the product to be sent (if it is different from the credit card address).
Submit the form when complete.
Expect delivery of the product within several days for U.S. shipments.
Questions? contact Eby Pharma LLC
E-mail Eby Pharma LLC: